Popping / Tutting
Performer
Teacher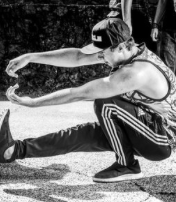 Liam Wass is one of Elements Collective newest members of staff, coming on board in 2016 as a Junior Teacher, his experience in the studio does not fall short however.
Liam represented Australia in world popping battles HHI, open division in Las Vagas at 14 yrs old 2012. Some more credits include:
- Advanced diploma in Dance performance at DLDC 2014/2015.
- Aust got talent 2010 Young talent time 2011.
- Elements Collective Eclectic crew that placed 1st in Australia, Varsity division for "Hip Hop Unite" competition.
Liam been teaching Hip Hop foundations for over 5yrs in Coffs Harbour, Toowoomba, Gold Coast and now in Brisbane. Liam is well known in the QLD dance battle scene as an Allstyles Hip Hop dancer. Liam is honoured to have been trained by experts in there field of dance such as "Break Master "Q" Australia, Travers Ross" Coffs Harbour, "Kathy Beamer" Toowoomba, "Aaron Blue Eyes" Gold Coast, "Simon Lind" Brisbane, and "Wanida Serce" Elements Collective Brisbane.